Innovation, intelligence and imagination through the new generation of container
We also produce a new generation of sandwich panels for office and residential containers in Turkey. Our specially designed 5 cm sandwich panels for container walls and 12.5 sandwich panels for roofs have a high thermal and acoustic insulation effect. We are the only company in Turkey that produces the world's most popular container systems. Thanks to our galvanized and electrostatic powder-coated screw and bolt system, our construction containers offer excellent performance in terms of insulation and material quality. Our products are used in many large construction projects, social housing projects, airports, dams, oil and gas exploration projects, infrastructure projects, bridges, highways, social services, construction sites and warehouse start-ups.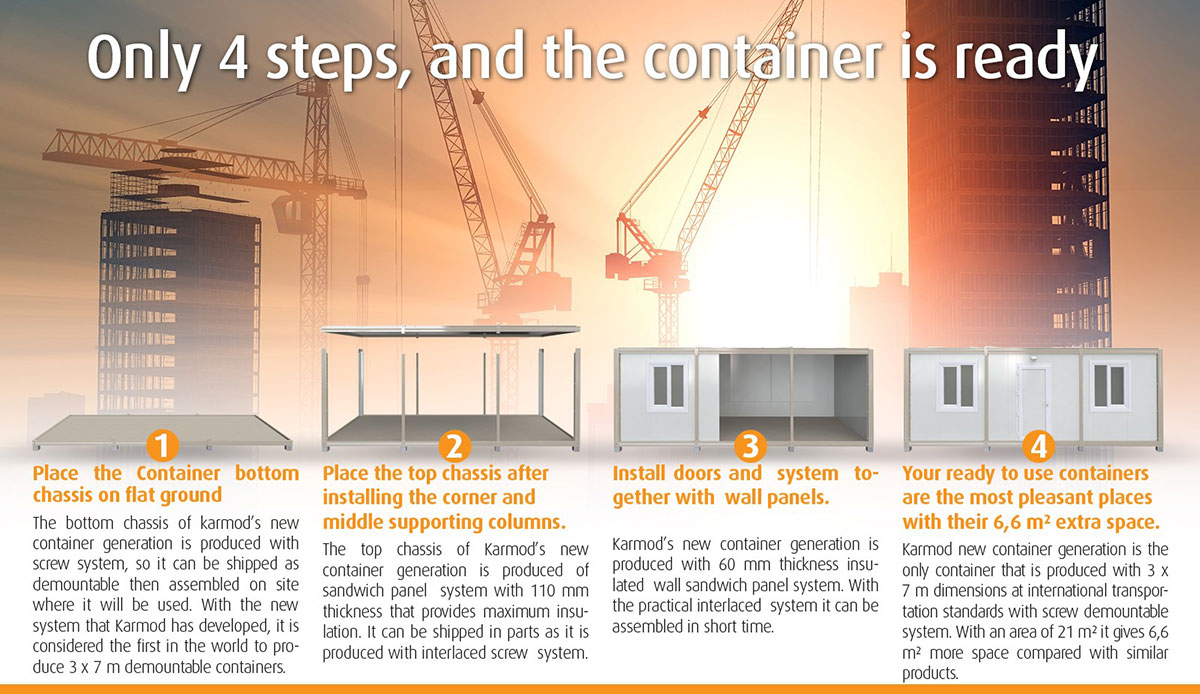 Flat Pack Conatiners And Portable office Cabins UK
We are experts in selling new portable flat pack containers and cabins and offer three differing types counting on your requirements.
Karmod containers and cabins are the traditional style of cost-effective portable containers and cabins, with a Plastisol exterior cladding; they also require very little maintenance. For facilities with limited access, choose the Flat Pack range of containers and cabins - these units are often joined together (side by side or end to end) to make more working space.
For a more robust and secure cubicle, steel vandal-proof cubicles with steel shutters and double locks are ideal. They are easy to stack and are equally suitable for use on construction sites or as secure offices for areas where there is a risk of theft or vandalism.
Flat Pack Container - Factory Direct
Flash offices, site offices and storage containers are ideal for homes, factories, retail environments or anywhere else with limited or restricted access. Concealed offices are also often used as home offices. They create a very economical workspace that can be relocated to awkward areas. They are quick to assemble and require no permanent foundation. They can also be easily disassembled if you move or no longer need the space.
The Flatpack Cabin & Container for sale throughout Mainland UK, portable cabins buildings and Containers offers a comprehensive range of Portable Cabins including traditional Karmod Cabins and secure Steel Cabins, bespoke built to meet any specifications, including portable offices, toilets, canteens, welfare units, portable classrooms, sales & marketing suites and much more.
On some sites it is impossible or unsafe to transport prefabricated buildings by truck crane due to weak or low bridges, bridge obstructions such as power cables or restricted access to the site.
The Flush Cabin and Container range can be a convenient option for easily unloading parts of a load from a flatbed truck. It consists of sections small enough to fit through small aisles. Assembling these collapsible buildings usually takes 1 to 2 hours for 2 to 3 people using the socket kit (not included). For larger projects involving multiple units that are joined together, we will also provide our installation team to come and install them for you, please ask for details. Buildings such as bungalows and containers are also often referred to as collapsible, retractable, sectional buildings and portable habitats.
Flat-Pack Buildings, Cabins And Containers
Flat pack cabins and containers offer a wide range of flat pack buildings including cabins, site offices, storage containers and chemical warehouses. All flat pack units are portable and available for immediate delivery throughout the UK within three weeks, ideal for any limited or confined space.
Karmod is the market leading flat pack office system and comes with a wide range of innovative features that makes it ideal for many uses and applications. Look a little closer and you will see that the entire structure has been improved not only aesthetically but the build quality and ease of use has improved all round. Now in stock, this new store ensures that the Karmod leads the market and stays ahead of the competition – and with no price increase.
Flat pack portable containers delivered by truck to any location
The flat-pack containers and cabin modules are complete and prepared to assemble, providing extremely economical accommodation and offering exceptional value for money. The wall panels are made from 80mm ROCKWOOL sandwich panels with high insulation properties, which reduce heating costs and eliminate cold and draughty conditions.
Manufactured to CE and Eurocode marking standards in a strictly controlled factory environment with ISO 9001:2000 quality certification.
Easy to install and supplied with comprehensive installation instructions and kits. The structure is designed to last for 30+ years and is backed by a one-year warranty.
Carefully considered finishes and meticulous attention to detail ensure an attractive building that blends harmoniously into its surroundings.
The robust steel frame, ribbed sandwich panels, security doors and double-glazed windows make the building safe and secure.
Completely removable and flat-packed to reduce transport costs, the modules require no foundations and can be easily moved from one site to another.
The structure is modular in design, allowing several modules to be combined together to form clusters or large volume buildings.
EXTERIOR CLADDING OPTIONS
A variety of cladding can be applied to the exterior of a building if required. We can also provide specialised graphics, logos and 'wraps' to add branding or decoration to the building depending on the location.
PERMANENT STRUCTURES
Flat pack building modules can be integrated into a complex volumetric building and configured rom a basic temporary structure to a fully Part L compliant permanent high performing building.
CUSTOM DESIGNS
Our standard flat-panel modular building system can be modified to create the ideal structure for 'one-off' events and exhibitions and can incorporate a wide range of additional features or equipment depending on the desired application.
The Strongest Flat Pack Container Unit on the Market Today.
Our flat pack containers are designed for use in locations where access is restricted. The components are light enough to be carried by hand and small enough to fit through a small passageway. They can be linked end to end or side to side at any time after initial assembly to create larger open plan storage spaces. The demountable nature means that they can easily be returned to flat pack containers form for storage, or reuse in a different location.
Portable Cabins and Modular Containers supply a wide range of high-quality flat-pack container buildings such as cabins, flat pack storage containers, kiosks or chemical storage units. All flat-pack container units are man-portable, easy to assemble building system and quickly demountable when needed.
Flat packed Modular Containers
We also supply flat packed modular containers. These can be used individually or linked and stacked to create a unique design of your own. These could be a combination of individual and open plan offices for example that offer a real alternative to conventional buildings at a fraction of the cost. Flat pack containers are an all steel construction which are strong, secure and weather-proof making them ideal high security stores and from our extensive stock can be delivered and off loaded at your premises anywhere in the UK.
These panels are fully interchangeable and can easily be assembled and dismantled allowing the positioning of doors and windows to your own individual layout.
This unique panel system makes expansion at a later date an easy option and a financial advantage to any developing project.
Over the years we have supplied to : Disaster relief areas, Charities, Aid agencies, Schools, Hospitals.
These portable container buildings are available for immediate delivery across the United Kingdom within three weeks. View Our Flat-Pack Container Range Below.
Flat Pack Containers UK - Sample Projects