Building affordable, quality, happy steel homes
Steel & metal home kits by worldwide steel buildings. Light steel frame house and integrative mordern villa manufacturer. Providing high-quality products, and a very competitive prices.
This is our predestined construction system for metal home and steel frame houses where rapid building progress, economic efficiency and high insulation value are required.
With its light-weight characteristics, Karmod modern steel frame homes provides enhanced safety against natural disasters, such as earthquakes and hurricanes. The main reason behind increased security is that load-bearing walls manufactured using light gauge cold formed steel profiles and sheathing boards providing lateral resistance are the main structural elements of these buildings. Even after catastrophic events causing urban-level damages, steel skeleton does not completely fall down, thanks to the property of steel called ductility, and minimizes fatal failure.
Steel homes have longer service life compared to other types, e.g. reinforced concrete buildings, since all the members are prefabricated using highest quality materials and minimizing production errors. Majority of production work is completed via a quality-controlled manufacturing process before on-site installation, and the construction of steel buildings takes a lot less time than other options. On-site assembly of prefabricated steel houses is carried out by our expert teams and we deliver turn-key building including waste and clean water installation and painting.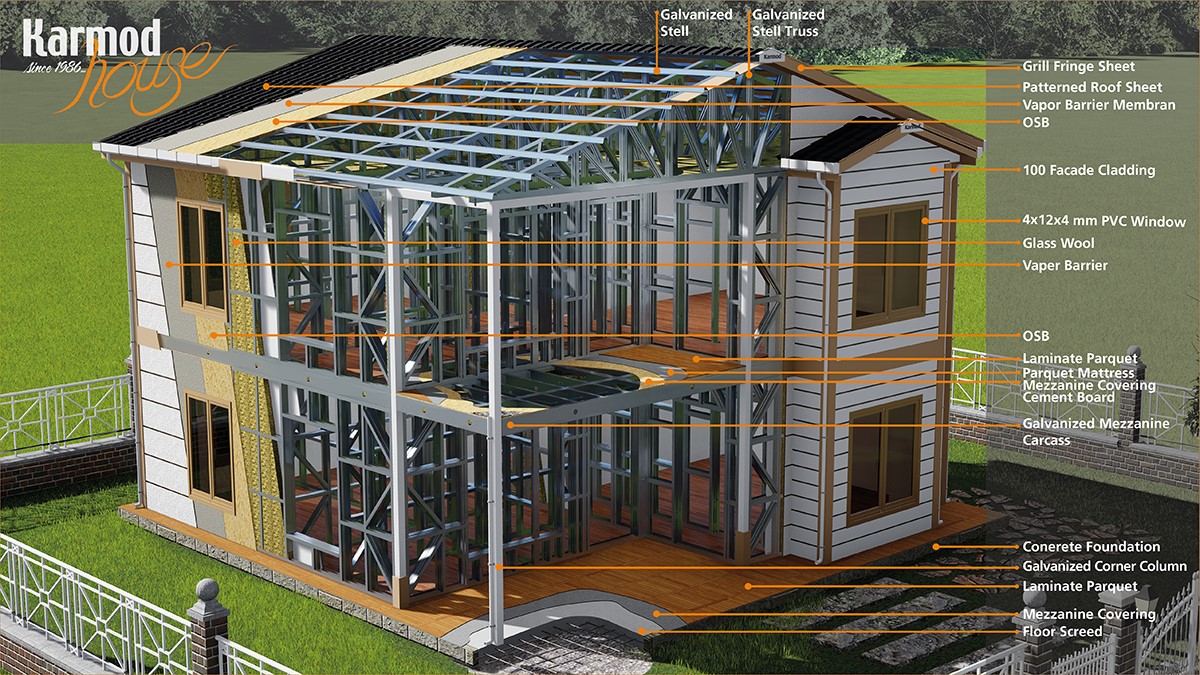 The Benefits Of Steel Frame House Are Endless
The benefits of steel frame house over timber and concrete frame construction are massive both in terms of cost saving, time saving and in terms of saving the planet. Ecologically valuable steel framed houses with individual design and the highest quality are our brand. steel framed houses are a fast, environmentally friendly and robust building technology that has been tried and tested around the world. Steel frame houses offer a more cost efficient method of construction to traditional brick or timber construction methods. Steel frame house buildings are fast to produce, are fabricated off-site and are much faster to erect with less wastage and provide a more environmentally friendly frame than both timber and concrete as it can be recycled.
Quality Steel Framed Houses
Modern steel frame houses are built using a modern construction method and often have great strength-to-weight ratios when built. Many steel frame house features will be hard to spot at first because of the exterior brick, plaster, or other type of cladding that hides the frame, and steel framed houses will be more economical to build and faster to manufacture. Light steel frame house, or Light Steel Frame is an ideal building solution for a variety of sectors, from residential housing to healthcare, student accommodation and hospitality & leisure. Light steel frame house has many benefits to offer today's demanding construction sector and is becoming ever more popular as more and more clients comprehend the features which make it unique within the off-site sector. Light steel frame house has an incredible strength to ratio which makes it the ideal material for a load-bearing structural frame.
The Benefits Of Light Gauge Steel Frame House
We believe that the future of construction lies in sustainable materials that are delivered using fast modern methods. Cold Formed Steel frames result in faster build times, lower costs, versatile design solutions and a durable, practical solution to residential and commercial buildings. Designing and building your own steel frame house is often a once-in-a-lifetime experience. As a unique experience, it should be memorable for all the right reasons. To realize your turnkey steel frame home on time and within budget, you need absolute confidence in the entire team working to make your vision a reality; A trust that can only grow with complete transparency of steel framed home costs and respect for budget and planning constraints specific to your project.
Steel Framed Houses UK - Sample Projects