Karmod steel buildings are highly secured structures that are being fully manufactured by using quality certified steel. All parts and materials used in production of steel structures such as metal parts, wall coverings, electrical supplies, plumbing materials, paint, roofing, windows, doors and every detail is being selected from top quality certified brands for more safety. You can find more details about our steel houses and structures in the technical specifications page.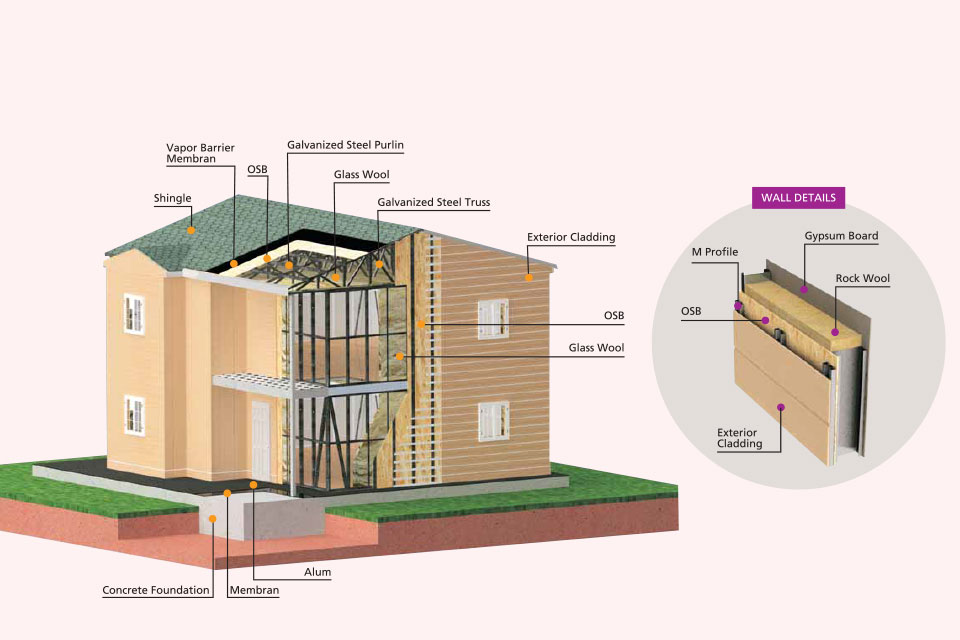 LIGHT STEEL STRUCTURES TECHNICAL SPECIFICATIONS
TECHNICAL DATA
EARTHQUAKE CONDITIONS
(3rd degree earthquake zone) effective ground acceleration coefficient A0=0,4
CLIMATE CONDITIONS
Production is made based on 3rd climate zone.
SNOW LOAD
80 Kg/m2 ( varies depending on where assemble )
WIND SPEED
80 km/h (must be fixed to the ground)
EXTERIOR WALL INSULATION COEFFICIENT
K: 0.45 Kcal/m²hC ( K: 0,53 W/m² K )
INTERIOR WALL INSULATION COEFFICIENT
K: 0.44 Kcal/m²hC( K: 0,51 W/m² K )
LIGHT STEEL MATERIAL
Erdemir 1311 ,(ST-37 ) Standard DIN EN 10147-00, zinc plated galvanized steel structure is used.
CEMENT BOARD
Density: ~ 1300 kg / m³ flame retardant (B1 to DIN 4102 Part 1) Thermal conductivity coefficient (λ10 ˚ C dry)
ROCKWOOL
As TS 13500-1 standard, A1 class fire protection or A2 fire class material that do not split fire.
CHASSIS LOAD CAPACITY
200 kg/m² (for two-storey buildings) (Calculated according toT.S 498 e.)
ROOF INSULATION COEFFICIENT
K: 0.39 Kcal/m²hC ( K: 0,43 W/m² K )
WALL
WALL FRAMES
The wall steel frame with posts and joists are produced at 84 mm thickness in accodance to project and statistical calculations.With pillars and glazing bars that have 84 mm thickness .Wall thickness can be increased upon request. For 2 or 3 story buildings, thickness will be 104mm.
JOINING SYSTEM
All steel parts are produced by means of seamless system. They are connected by using bolts and screws with imbus method. The cold-formed galvanized steel (U, C, L Omega…etc) galvanized steel cold-formed profiles form the carrier system of the structure.
ISOLATION
80mm thickness of Rockwool or Eps is applied.
EXTERIOR CLADDING AND PAINT
Moisture barrier and OSB covering of 11 mm thick can be added on steel framework upon request. (It is a must in 2 floor houses. ). When coated with OSB "M" profile application is used. Stone apearing cladding can be applied upon request. Acrylic-based exterior paint is used.Outer wall thickness is 116 mm without OSB and 152 mm with OSB.Outer wall thickness is 172 in two and three floor buildings.Exterior jacketing can be applied upon request.
INTERIOR CLADDING AND PAINT
Net and gypsum plaster applied between gypsum boards to give aesthetic appearance. before applying the gymsum naylon is applied above the interior walls profiles in order to prevent sweating and increase insulation. For wall coading 12.5 mm thick gypsum board (pink gypsum boards with high fire resistency can be used upon request) plates are used. For wet areas ,12,5mm green gypsum boards are used. Gymsum boards are painted with plastic paint. Inner panel width is 110 mm. For inner walls double gypsum boards can be used upon request.
ROOF
SYSTEM
Sloping values for gable roof and pitched roof systems are %20-%30.Roof slope can be increased in the regions whith high snow load.
Roof Truss
Roof trusses, beams and columns are manufactured from special shaped stainless galvanized steel profiles. Roof system is installed according to project and static calculations. Special shaped galvanized purlins are installed on the top of roof truss. Seamless and bolt connection system is produced in our modern production facilities. End gable roof is covered with same external cladding material. Around the roof, vented eaves with 20 cm width that are made of stainless galvanized steel sheets are installed.
Roof Cladding
Stainless painted galvanized metal sheets are applied on metal purlins for roof cladding.Aditionaly, Tile patterned painted trapezoidal metal sheets that we are producing in our facilities can applied upon request.Front truss area are covered with siding.PVC based eavethrougs and accessories can be installed.Breaking that caused by snow load are out of warranty.
CEILING COVERINGS
INSULATION
Above the gypsum board of the false ceiling , 80 mm thickness (14kg/m3) glass wool is applied. (Rock wool can be applied also upon request) .In cold areas, double layel of glass wool can be applied upon request.
CLADDING
Net and gypsum plaster applied between gypsum boards covering the ceiling to give aesthetic appearance. For ceiling cladding , 12,5 mm of thickness gypsum board can be applied ( pink gypsum boards that have high fire protection can be applied upon request).For wet areas ceilings 12,5 of thickness green gypsum boards are applied.
DOORS
OUTER DOOR
90x200 cm Steel Door with TSE certified cylindirical locks.
INNER DOORS
80x200 cm stainless galvanized metal sheet frame, offf white colour, wooden american door. Aluminum and PVC doors available upon request. Built-in locks with TSE certification. Wooden door frame can be also applied upon request.
WINDOWS
WINDOW PROFILE
160x160, 115x110, 115x160 cm and 60x40 transoms, PVC based , TSE certification and 60 seriers.Aluminum or wooden pattern PVC can be applied upon request. Windows and transoms frames can be cladded with cement board.
DOUBLE GLAZING
All the glasses used is double glazing; 4 + 12 + 4 mm double glazed and transoms are frosted glass.
During the ordering process, doors and windows dimensions and locations should be indicated on the project. Delivery time for aluminum and coloured windows is longer than normal.
STAIRS
Manufacturated with Roll-form machines from galvanized sheet metal as specially shaped steel structure with a weldless screw system. Steps are covered with wood. Risers are open. Metal parts are painted with electrostatic paint.Optionally can be covered with wood upon request.
STAIR RAIL
Handrails are manufactured from decorative wrought iron.Optionally aluminum or wooden handrails (for wooden stairs) can be made upon request.
PAINTINGS
OUTER PAINTING
External side of metal parts is painted with double layer of priming, and then double layer of synthetic oil paint. External side of wall panel is painted with acrylic paint. Mastic is being applied to exterior wall connections. First class TSE certified paint is used in all of our buildings. Exterior jacketing of mineral plaster can be applied upon request.
INNER PAINTING
Inner surface of wall panel and surface of ceiling gypsum board is painted with plastic paint. First class TSE certified paint is used in all of our buildings.Satin paint, wallpaper can be applied upon request.
OTHER
Roof truss, purlins and panel frames profiles are manufactured from galvanized sheet stainless, and are uncoated and unpainted.
ELECTRICAL INSTALLATION(FLUSH MOUNTED)
SYSTEM
For electrical installation first class, TSE certified cables are used and laid under-plaster. Switches and sockets are chosen from first class TSE certified products. Electricity meter and outdoor connections should be arranged by the BUYER
SANITARY INSTALLATION (FLUSH MOUNTED)
SYSTEM
Flush mounted system.Sanitary materials, sink and shower fixtures are not included and are left to the preferences of the customer. Clean water pipes are PPRC and sewage water pipes are PVC and have TSE certificate. Water meter and outer connections are the responsibilities of the BUYER.
BASE AND CONCRETE
Concrete slab (foundation) should be done according to the concrete plan (basic dimensions) provided by Karmod. Concrete slab and soil survey are responsabilites of the customer.The building is fixed to the ground with anchors and steel dowels. Anchored raft or steel wire mesh foundation should be prepared. The customer is responsible for all excavation operations.
WARRANTY COVERAGE
Karmod products are manufactured with advanced technology. 1-years warranty is provided against manufacturing faults. If Karmod-branded aluminum and adhesive labels were removed then warranty will be stopped. In case of failure, fault detection should be done correctly. In order to resolve the failure, requested documents should be sent to Karmod and photographes must be taken from 30 cm, 2 m and 10 m distances in order to send appropriate materials and team. Otherwise even product is covered under warranty, service delivery will not be made
Karmod Prefabricated Building Technologies has the right to make modifications in the Technical Specifications.